Compass deviation, who's responsible?
- Editor H2ONotes [ 9/18/2005 - 07:15 ]
#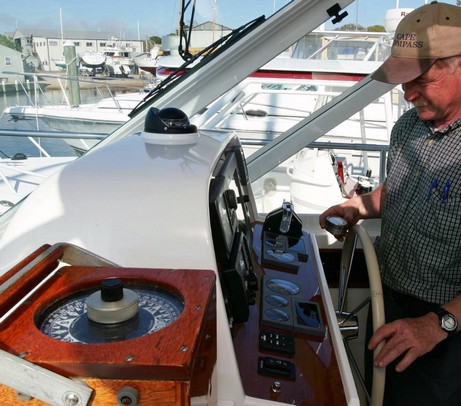 The compass adjustment trip that I missed the other day was aboard a nearly brand new, high quality 30' power boat. But the steering compass, a decent Ritchie SS1000, turned out to be 45° off on some headings and "limp" if you were pointed north! Jeff Kauffman tells me that this is just an extreme example of a common situation. Boatbuilders may install the compass but don't pay attention to the deviation, leaving that for whoever installs all the electronics, who may not pay attention either. Jeff says his fee is sometimes paid by a yacht broker trying to complete a deal, because no one else will take responsibility. more...
Technology
Email to a Friend
In order to post a message, you must be logged in
Login

message

date / author
My first thought here is, at least someone involved with this boat had the good sense to get the compass swung; too many people that take boats out of port have no idea what 'swinging ship' involves. Someone chased this down, and good for them. Having said that, I remember mounting the compasses on an offshore race boat that I was the BN for, doing it in Goetz' shop, and looking over at the steel wall right next to the starboard rail, and making a mental note that this was not the best environment for physically installing compasses. Sure enough, when it came time to swing those two steering compasses, the starboard one was off all the way around the rose...'slewed', in our adjuster's jargon. We quiickly removed it, re-bedded, and refastened it in the deck. It was a fault of installation, but identical to the boat described in this article, i.e., the builder did not take the juxtaposition of large steel objects in the hull of the boat into account when choosing a mounting position for the compass. In my view, the builder needs to make sure that huge deviations such as these never occur, and to remedy them when they do. They have an obligation to that new owner, and every owner AFTER that owner. I really don't know much about correcting large deviation errors in steering compasses, but the placement of large corrector magnets has never set well with me. -Willie Crear
9/26/2005 10:33:01 PM
deaenda
In order to post a message, you must be logged in
Login
Copyright 2018 Edict Incorporated
280 Mill Street, Suite A | Rochester, MI 48307 | (248) 650-4962